Billy's Cave
Gold inside Billy's Cave.
Type
Cave
Ruler
Billy
Location
Goat City, at the top of Mount Cragdor
Notable Inhabitants
Billy
Billy's Cave is where he lives and... Pratices non-violence.A few years ago, he opened his cave to the public so his millions of fans could meet him in person. However, Billy is still bitter and grumpy and throws rocks at people who try to enter, so there aren't very many visitors. It will take a determined soul to get Billy to train them here.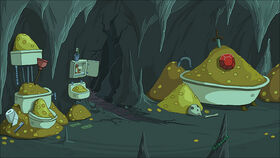 Ad blocker interference detected!
Wikia is a free-to-use site that makes money from advertising. We have a modified experience for viewers using ad blockers

Wikia is not accessible if you've made further modifications. Remove the custom ad blocker rule(s) and the page will load as expected.