Campgrounds
Type
used for overnight stay in the outdoors
Location
Goat City, near the Battlefield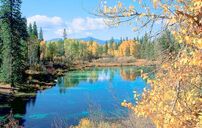 The term
camp
comes from the Latin word
campus
, meaning "field". Therefore, a
campgrounds
consists typically of open pieces of ground where a camper can pitch a tent or park a camper. More specifically a campsite is a dedicated area set aside for camping and for which often a user fee is charged. Campsites typically feature a few (but sometimes no) improvements.
Dedicated campsites, known as Campgrounds such as this one, usually have some amenities. Common amenities include, listed roughly in order from most to least common:
Fireplaces or fire pits in which to build campfires (this can be a circle of rocks, a metal enclosure, a metal grate, a concrete spot, or even just a hole).
Road access for vehicles
A gravel or concrete pad on which to park a vehicle
Picnic tables
Marked spaces indicating a boundary for one camper or a group of campers
Reservations to ensure there will be available space to camp
Utility hookups, such as gas, propane, water, electricity and sewer, primarily for the use of Travel trailers, Recreational vehicles, or similar
Raised platforms on which to set up tents
Piped portable water
Campgrounds may include further amenities:
Pit toilets (outhouses)
Flush toilets and showers
Sinks and mirrors in the bathrooms
A small convenience store
Shower facilities (with or without hot water)
Wood for free or for sale for use in cooking or for a campfire
Garbage cans or large rubbish bins in which to place refuse
Camping outside a designated campsite may be forbidden by law. It is thought to be a nuisance, harmful to the environment, and is often associated with vagrancy.