Changelings
Average Height
Changes
Average Weight
Changes
Changelings (変身,
Henshin
; lit. "Transformation") are a race of anthromorphic animals with the ability to change one's shape or, more commonly, one's form and appearance and one of many races you can choose to be when creating a character on the Goat City Wiki.
There is a shape shifting school existing on Earth, which Oolong and Puar both attend. Puar graduated, but Oolong was expelled because he stole the teacher's underwear (in the English dub, he steals the teacher's papers). As a result of his expulsion, Oolong never masters the technique and can only shapeshift for up to five minutes at a time, while Puar can shapeshift indefinitely. Nekoes are also capable of shapeshifting, but only into other cats.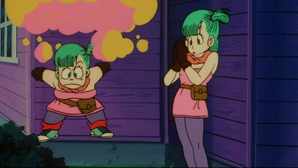 Ad blocker interference detected!
Wikia is a free-to-use site that makes money from advertising. We have a modified experience for viewers using ad blockers

Wikia is not accessible if you've made further modifications. Remove the custom ad blocker rule(s) and the page will load as expected.