A
Fire Elemental
is a creature that is composed of fire. Most hail from the
Fire Kingdom
and are able to conjure up flames at will.
Starting Technique
When you create a character that is a Fire Elemental, your starting techniques will be Flight, Ki Blast, Ki Sense and Fire Breath.
Racial Abilities

They have the ability to transform the other citizens of the Fire Kingdom into
flambits
. They are able to transform into a much larger, more dangerous form composed purely of fire, called Hi-Temp Form. Also, they can hurl fireballs that vary in size from about baseball-sized to larger than a person. Fire Elementals are also able to separate their bodies into distinctly separate groups of flames. T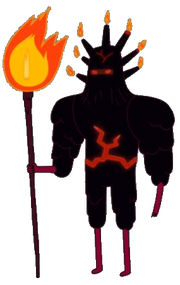 hey can "fly" and move very quickly, both of which leave a trail of flames.
They are weak against water, or any kind of liquid except lighter fluid. The fires that they make are a part of them, and snuffing or dousing the fire will cause them extreme pain.
Transformations

Hi-Temp Form

Hi-Temp Form is a natural ability of Fire Elementals. In this form, the user is made purely out of fire. It creates a fire aura around the user. When they are not at full power the red aura disappears.
In the Hi-Temp Form, the user cannot control their power output. However, with a great deal of training it can be possible to do so.