Fun-land is a group of entertainment attractions, rides, and other events in a location for the enjoyment of large numbers of people. An amusement park is more elaborate than a simple city park or playground, usually providing attractions meant to cater specifically to certain age groups, as well as some that are aimed towards all ages. Theme parks, a specific type of amusement park, are usually much more intricately themed to a certain subject or group of subjects than normal amusement parks.
Amusement parks evolved from European fairs and pleasure gardens, which were created for people's recreation. The oldest amusement park in the world is Bakken, north of Copenhagen, Denmark, which opened in 1583. In the United States, world's fairs and expositions were another influence on development of the amusement park industry. Amusement parks have a fixed location, as opposed to traveling funfairs and carnivals.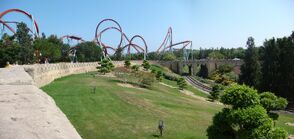 Ad blocker interference detected!
Wikia is a free-to-use site that makes money from advertising. We have a modified experience for viewers using ad blockers

Wikia is not accessible if you've made further modifications. Remove the custom ad blocker rule(s) and the page will load as expected.