Oh, Marceline, can't you see this page is in pain~?
This Article does not meet the Wiki's Standards!

This Article may be a work in progress, or it may simply need a photo. Either way, please make some changes. Add some better content, or this page will be marked for deletion.
Hunson Complex
The name was inspired by Marceline's Father.
Type
Same use as the Nukapei Apartments, serves as a home for many Roleplay Characters
Location
Goat City, opposite side of the street from Nukapei Apartments
Like Nukapei Apartments, the Hunson Complex is a self-contained housing unit building, AKA, an apartment complex, built to rival the Nukapei's success. Please note that pets are not allowed.
Room A
Currently owned by Nocker Features:
- Kitchen
- a living room with a mediun siseded tv
- Master Bedroom
-bathroom( inside the bedroom)

- The Lusus Bedroom ( wich is bigger them Nocker's bedroom)
Room B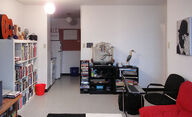 Owned by Toya. Contains -bedroom -kitchen -living room -bathroom.

Residence of death god Toya.
Room C
Owned by Luckstorm.
Contains -Emptyroom -Paintedroom -undercunstructionroom -bathroom -greenroom
Since the caracter is still to move in, the room is not fully constructed, but reserved. This room belongs to an caracter that is still to be created (due to lack of images I can't create him yet). He is going to be anequestrian DJ, and where there are parties, you will find him. This complex is going to receive way more visitors!
Ad blocker interference detected!
Wikia is a free-to-use site that makes money from advertising. We have a modified experience for viewers using ad blockers

Wikia is not accessible if you've made further modifications. Remove the custom ad blocker rule(s) and the page will load as expected.