Lau the G's House
Outside view of the house
Name
Lau the G's House
Type
Home
Ruler
Lau the G
Location
Goat City
Notable Inhabitants
Lau the G
Overview
This is the home of the great Lau the G. This home was built following his huge success. It took a very, very, very long time to build. It is about 3 stories high and contains many bathrooms. A lot of butlers and maids work here, which is a good amount of pay for them!
Features
Entrance- Right behind the door contains the entrance. It is highly decorated and has a large flight of stairs.
Living Room- The living room is large with windows that show the outside view.
Guest Rooms- People often visit the house, so a lot of guest rooms will be needed. They are beautifully arranged and taken care of.
Lau the G's room- Lau the G's room is huge, and decorated nicely. It contains large windows that show the beautiful outside view.
Kitchen- The Kitchen is pretty large. It has a fridge, a stove, everything a kitchen needs.
Dining Room- This is for dinner with the family or just inviting a few people over for dinner.
Pool- Outside there is a large pool outside with a waterfall next to it. There is a kid side of the pool and the deep side is about 8 feet.
Basketball Courts- Lau is a fan of basketball, so he has his own backetball court inside and outside of the house.
Game Room- The game room is large. It contains gaming systems, pool tables, air hockey tables, arcades, and more!
Hot Tub- There is a hot tub installed outside for people to heat up and enjoy.
Basement- The basement has a movie theatre with snack machines and comfortable leather seats.
Studio- Lau had a studio installed to work on his music.
Play Room- Sometimes James and Chloe like to bring their friends over, so this room is used for them
Gym- This is where Lau likes to work out. It also has a gravity chamber for special gravity training.
G Pound
G Pound is Lau the G's only pet. At first he seemed like an innocent and sad little pup, but then Lau nurtured and cared for it. He fed it and trained it well, and it grew up to be a large and strong dog. It seems scary but it's friendly to Lau's friends. He doesn't act the same way to intruders, of course.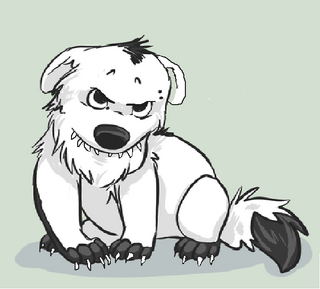 Ad blocker interference detected!
Wikia is a free-to-use site that makes money from advertising. We have a modified experience for viewers using ad blockers

Wikia is not accessible if you've made further modifications. Remove the custom ad blocker rule(s) and the page will load as expected.