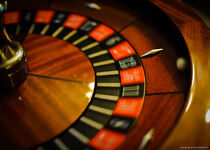 Mifan Casino
Try your luck!
Type
Gambling Hall
Location
Goat City, built next to Kokuyo Land
The Mifan Casino is a facility which houses and accommodates certain types of gambling activities. There is much debate over whether or not the social and economic consequences of casino gambling outweigh the initial revenue that may be generated. In the region of Mifan, many areas are grappling with high unemployment and budget deficits and are now turning to legalizing casinos, often in places that are not tourist destinations. Some casinos are also known for hosting live entertainment events, such as stand-up comedy, concerts, and sporting events.
Customers gamble by playing games of chance, in some cases with an element of skill, such as craps, roulette, baccarat, blackjack, and video poker. Most games played have mathematically-determined odds that ensure the house has at all times an advantage over the players. This can be expressed more precisely by the notion of expected value, which is uniformly negative (from the player's perspective). This advantage is called the house edge. In games such as poker where players play against each other, the house takes a commission called the rake. Casinos sometimes give out complimentary items to gamblers.
Ad blocker interference detected!
Wikia is a free-to-use site that makes money from advertising. We have a modified experience for viewers using ad blockers

Wikia is not accessible if you've made further modifications. Remove the custom ad blocker rule(s) and the page will load as expected.