Mutatio Training Academy
The outside of the building
Type
Training area
Mutaito Training Academy is a martial arts school founded by Master Mutaito.
Overview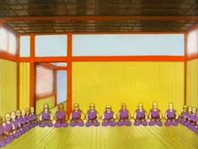 The main members of the school were
Master Roshi
and
Master Shen
. Mutaito taught his students the basis of all
ki
-based techniques. This knowledge was later used by Roshi to develop the technique would become his and Goku's (and many others) signature
ki
-based attack, the
Kamehameha
.
Insignia

The
symbol
of Master Mutaito's Training Academy (武) is pronounced
wǔ
in Chinese and means
"martial arts"
or
"martial artist"
. This symbol is worn by those trained under Master Mutaito. It is also the logo for the
World Martial Arts Tournament
.
This symbol also decorates the Template:Mutatio Academy Student.
Techniques Learned Here
Kamehameha
Evil Containment Wave (Mafūba)