"Under Construction"
This article or section is in the process of being built or revamped, if you have anything to contribute then either wait for this banner to be removed or post about it on the talk page. Especially if you would like to discuss it first and report edit progress. Please use the talk page.
Satan House
Dynamite... KICK!
Type
Mansion, training location
Ruler
Mr. Satan
Location
Goat City, in about the middle of town
Notable Inhabitants
Mr. Satan
Satan House (サタンの家) is the giant home of Mr. Satan. It is also the place where Mr. Satan trains his students in martial arts.
Overview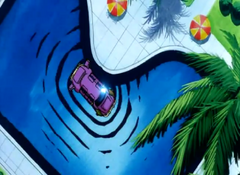 Please help the Wiki by filling this page in!
Ad blocker interference detected!
Wikia is a free-to-use site that makes money from advertising. We have a modified experience for viewers using ad blockers

Wikia is not accessible if you've made further modifications. Remove the custom ad blocker rule(s) and the page will load as expected.