"

This, is my office. I live here, and I rule here.

"
The Head Office is where Jökä-Face abide, and lives. It's located inside the Wiki Mental Hospital, and Jökä-Face took control over it, after kicking out Princess Cookie, stating that she was a "f***ing psycho". He eventually started decorate the place, but the real office was actually located in the very center of the Mental Hospital. (And when I say center, I MEAN center.) However, he has a great view over the place, and he usually sits on the sofa, and relaxes, plotting the next move.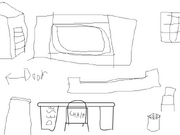 Things
There are numerous things in the "office", including:
A coffee machine : Jökä-Face has a coffee machine. His favourite choice is the Cappuccino.
A sofa : Jökä-Face has a purple sofa, in where he usually sits and relaxes, along with his Chao pet, Rocketman.
Tables : Jökä-Face has numerous tables, both big and small
Desk : Jökä-Face usually sits here and plans his moves.
TV : Jökä-Face enjoys keeping himself updated, and watching sit-coms.
Bookshelf : Self-explanatory. Pretty much filled with books and comics.
Ad blocker interference detected!
Wikia is a free-to-use site that makes money from advertising. We have a modified experience for viewers using ad blockers

Wikia is not accessible if you've made further modifications. Remove the custom ad blocker rule(s) and the page will load as expected.