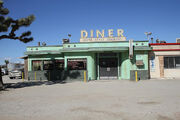 Oh, Marceline, can't you see this page is in pain~?
This Article does not meet the Wiki's Standards!

This Article may be a work in progress, or it may simply need a photo. Either way, please make some changes. Add some better content, or this page will be marked for deletion.
This diner serves fast and really tasty dinner, from all your favorite foods such as...
Foods
Pizza
Popcorn
Ice cream
Ice Cream Sunday
week specials
Chicken
French Fries
Chile
Cheeries
Marshmellows
Porkchops
Fried Chicken
Fried Rice (pork or chicken)
Soup
Cake
Some things you can find at the diner are
Misc.
The decoration
The T.V.
The Food
The drive through
The roler-skating host/ or hostess
The clean table and food and chairs and countertops.
The drinks to suite your needs